In this newsletter:
New MoneyWorks Mobile App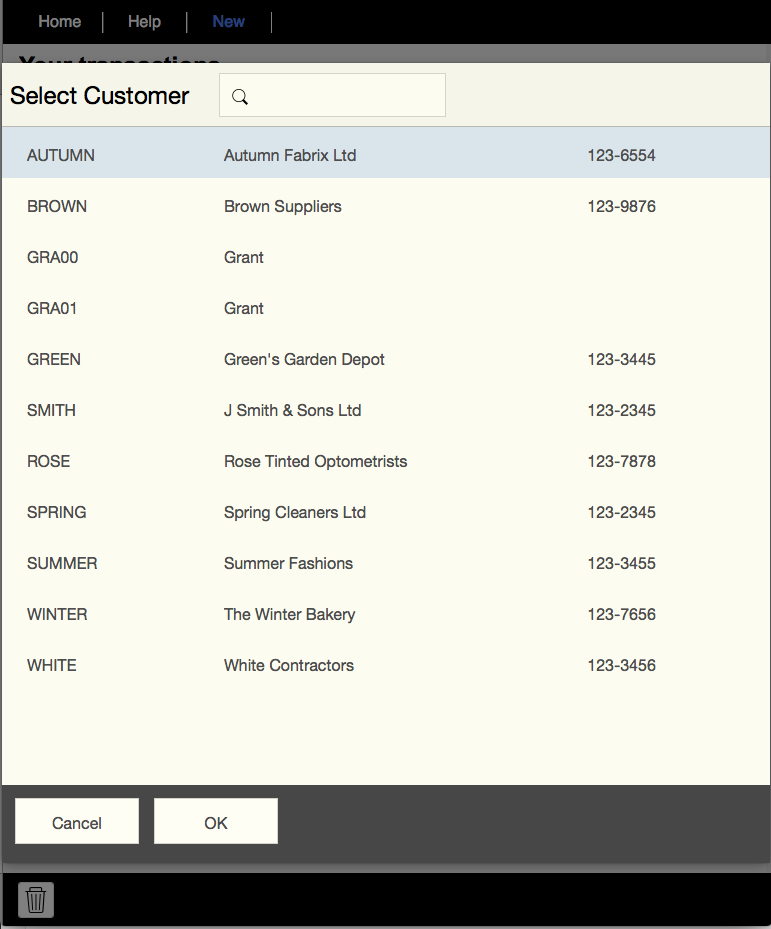 A new, free MoneyWorks mobile app for iOS is now available from the MoneyWorks Add-on Store. Although designed for an iPad, it is quite workable on an iPhone, and has the following capabilities:
Run any (authorised) report.
Customer management

Customer dashboard showing balances and historic purchases.
Retrieve any invoice for a customer.
Update customer details.

Enter new quote, sales order or sales invoice, with option to capture customer signature.
Record time and materials used on a job.
Do stock count with option to use iPad/iPhone camera as scanner
Record expense claim, with photo of docket/receipt.
The app works with MoneyWorks Datacentre 8.1 or later, or MoneyWorks Now, and data entered on the device can be sent live back to MoneyWorks. It is pre-configured to talk to a sample file in Brisbane, Australia, but you can easily reconfigure it for your own Datacentre or MoneyWorks Now file.
Note that when using the App with MoneyWorks Datacentre, it will use one of your user licences, and fail if this is not available. Guaranteed access for multiple users can be achieved with a special REST licence key. For use with MoneyWorks Now a REST multi-user key is required — for details of this please contact admin@cognito.co.nz
MoneyWorks Now expands to Singapore
Good news for businesses in Singapore and Malaysia who are looking for industrial-strength cloud accounting and ERP: we have recently commissioned a MoneyWorks Now Node in Singapore. People in Singapore/Malaysia who prefer to use the public cloud instead of the private cloud offered by an in-house MoneyWorks Datacentre should contact Mike Ong at LedgerWorks for more information.
NZ IRD AIM Initiative
We are working with the New Zealand IRD to implement both the AIM initiative and the electronic filing of GST returns direct from MoneyWorks Gold/Datacentre. For those not familiar with AIM, it is, to quote the IRD:
AIM is designed to fit better within the existing and ordinary processes of a business and is more reflective of the current year to date financial performance of a business.
Under AIM, provisional tax is integrated into business processes and payment amounts are based on current year tax adjusted income. This should provide businesses using AIM with more certainty that they are paying the right amount of tax as it will be paid as income is earned.
AIM is not compulsory, and indeed may in practice incur significant addtional accountancy fees. At this stage we are unable to give an implementation date, but will advise availability in a future newsletter.
Upcoming Training Courses
We currently have training courses scheduled as follows:
Auckland (March 20/21)
Sydney (April 18/19)
For more details, or to book your place, see cognito.co.nz/support/training/
End of Year Processing
With the financial end-of-year approaching in a number of countries, it could be a good time to review the What should I do at the end of the Financial Year post in the MoneyWorks forum. If you are using stock/inventory, the one thing you should remember to do at the end of business on the last day of the year is to start the MoneyWorks Stocktake, which takes a snapshot of your current stock holding and values.
MoneyWorks 8.1.2
The current version of MoneyWorks is 8.1.2, which was released on 25th January. If you are using an earlier version, please update as this addresses a number of issues discovered in previous versions.
Tips du Jour
Using Subscriptions to Advantage
The MoneyWorks Subscription service allows you to get MoneyWorks licences on a monthly basis, so is great if you have a sudden glut of work, or an unexpected visit from the tax department. Examples:
You have Datacentre, but need an additional user for just a month or two.
Simply subscribe to a MoneyWorks Gold (which will act as a client to your existing Datacentre).
You have purchased MoneyWorks Gold, but need an additional user for a short period.
Subscribe to a single user MoneyWorks Datacentre for the period. Your existing Gold will act as a concurrent second user.
Finding Backdated Transactions
Sometimes, you need to find transactions entered after a certain date, but dated before that date (a question that your accountant might have). These are easily found using the Backdated Transaction report, available under Reports>Audit>Backdated Transactions.
Reinstalling MoneyWorks
If for some reason you need to reinstall MoneyWorks, you can download the installer from the MoneyWorks Trial page. Choose the correct version from the pop-up menu, which includes installers for obsolete versions of MoneyWorks, going back to MoneyWorks 5. Note that older versions of MoneyWorks may not run on newer operating systems (and you need MoneyWorks 8 for High Sierra, the latest MacOS). Having installed MoneyWorks, you just need to activate it by entering your serial number into Help>Enter Serial (you can retrieve your serial number from the same place on your old installation).
---