Whew … quarter of the way through 2019 already.
In this newsletter:
Making Tax Digital – UK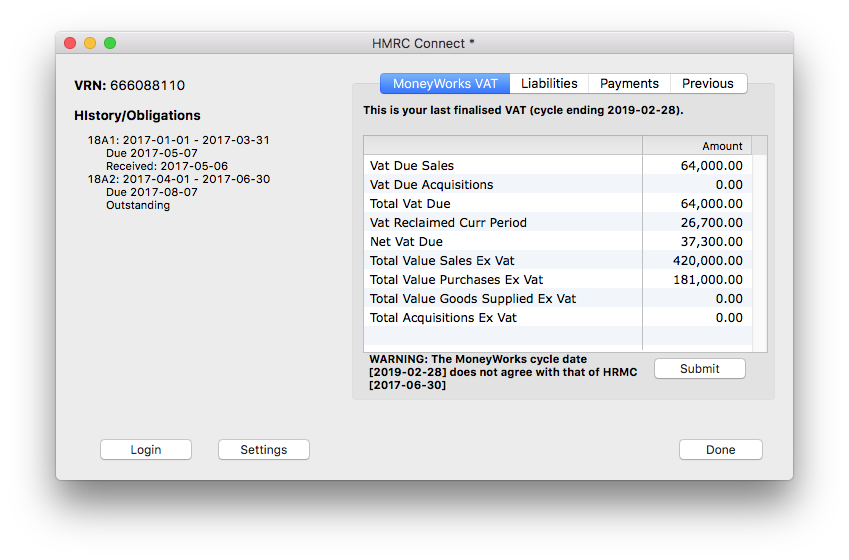 Making Tax Digital (or MTD) is the UK Government initiative to make VAT processing easier by allowing accounting packages to directly file the VAT return with HMRC. MTD is starting on April 1st 2019, meaning that the first quarterly return that needs to be filed using MTD is in July (i.e. only VAT periods that start on or after 1st April need to be filed using MTD).
MoneyWorks 8.1.6 will support MTD, but we are unable to release it until it has been vetted by HMRC. They have been "inundated" by the response (who would have thought?) — we have been in the queue since early Feb. However we now have a meeting scheduled with them for early April. The draft documentation for the MoneyWorks implementation can be downloaded from here.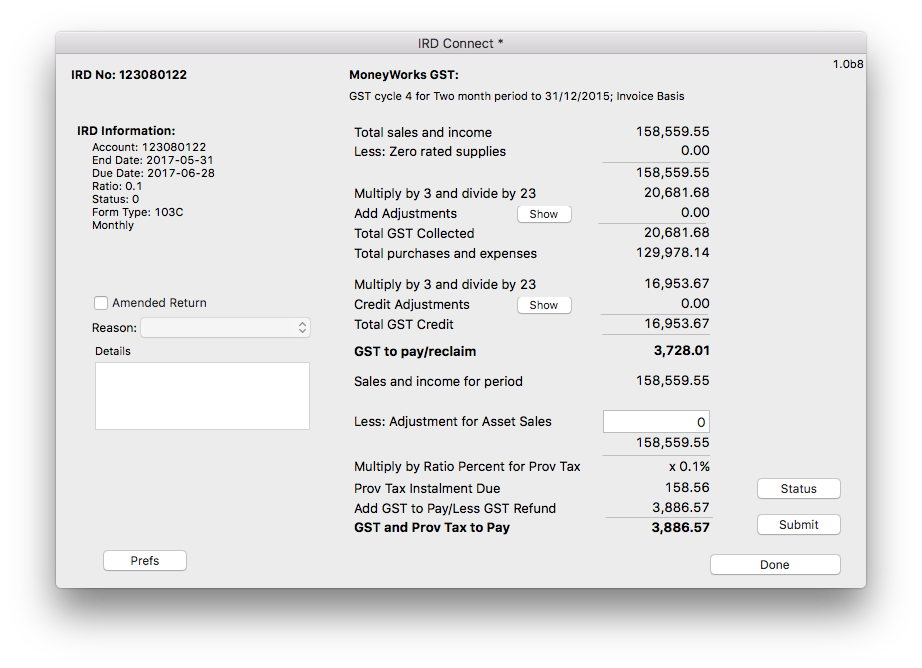 Filing GST Electronically – NZ
The IRD in NZ has also been rolling out online filing of GST, although, unlike the UK, it is not compulsory. MoneyWorks 8.1.6 will support this. Basically, once you have finalised your GST for the period, you can connect to the IRD directly from MoneyWorks and file the new or amended GST return at the click of a button.
Taxable Payments Report – Australia
The ATO has extended the requirement for the Taxable Payments Annual Report (TPAR) to include businesses providing:
building and construction services
cleaning services
courier services
road freight services
information technology (IT) services
security, investigation or surveillance services
For details of how to generate this from MoneyWorks see this section of the manual.
Upcoming Training Courses
Next scheduled training courses:
    Auckland: April 9th and 10th;
    Auckland: June 11th and 12th;
    Brisbane: July 17th and 18th.
For more details, or to book your place, see cognito.co.nz/support/training/
In addition to these formal courses, we offer short, targeted on-line training. For example, if you want to find out more about how job costing can work for you, what scripts can do, how to change an invoice layout, or are unsure of how multi-currency works, then a time can be arranged to show you. For details please contact admin@cognito.co.nz
Tips du Jour
Reordering transaction lines
To move the lines of an (unposted) transaction, simply position the cursor over the detail line to move, hold down the shift and control keys (Windows) or the option key (Mac), then drag the detail line up or down to its new position

Also note how the line we are moving in the above image has a product code of *. It is a convention in MoneyWorks that any product code that starts with an asterisk is deemed to be a comment and the quantity and pricing information is excluded when the invoice is printed.
End of Financial Year
With the end of the financial year coming up for many users, a reminder about this forum topic: What should I do at the End of Financial Year?.
Taking Screen Shots:
Although you can (and often do) take a photo of your computer screen when you want to send us a screenshot, it is much faster and easier to use the built-in keyboard shortcuts:
On Windows: Please see this article from Microsoft.
On Mac: To send a screen image to the clipboard, hold down the Shift + Control + Command keys and press 4. The cursor will change into a cross hair. Draw a rectangle over the part of the screen to copy it, or press the spacebar and click on a window. You can then paste the resultant image into an email. Further details are available in this article from Apple.
Please don't scale your screenshot to be so small that we can't read it, as you'll just be asked to send a larger version. Apple Mail, for example, will usually default to Image Size: Small. You should change this to Actual Size:
Got a MoneyWorks Tip to share?
Please send it into us at admin@cognito.co.nz
---