Edit
Printing Tax Receipts
You can print a tax receipt when you enter a transaction by setting the Print option. You can also print a Tax Receipt for any existing receipt(s).
In the Receipts list, highlight the receipt(s) to be printed and Choose Commands>Print Receipts or press Ctrl-[/⌘-[
The Print Receipts dialog box will open.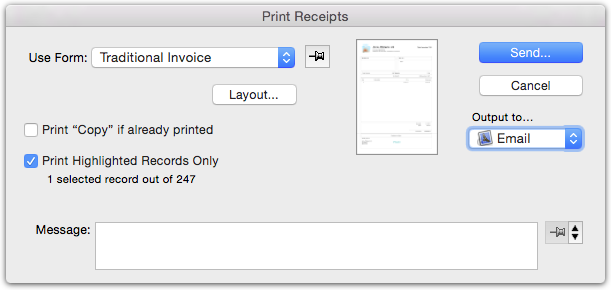 Choose the form to be used for formatting the receipt from the Use Form pop-up menu
Enter any text in the optional Message text box
This message will be printed on all the receipts being printed.
Check the Print "Copy" if Already Printed option if you are reprinting a receipt
If this option is checked and the receipt has already been printed, the words "Copy of" appear on it. If the receipt has not already been printed this is ignored.
Note: If this is the first time that you have printed this form, you should check the positioning and paper size — see Output Settings.
Click Print to print, or set the Output To pop-up to email and click Send if you want to email the receipt
When emailing, the Mail Attachment window will be displayed. See Emailing Forms for information on this.
For "Plain" forms, if the Print this Logo and/or Print Address & Phone Nos options in the Company Setup window have been checked, the company logo and/or address details will be printed at the top of the receipt. If you want to print the receipt on letterhead which contains these details, you should ensure that the options are off and that the top margin in the page setup is large enough that your letterhead is not overprinted.
For further information on printing, see Printing Invoices, Receipts and other Transaction Forms.