MoneyWorks®: The powerful accounting and business information software for Mac and Windows.
As the cornerstone to your business, your accounting software needs to do so much more than just bookkeeping and compliance. As well as providing fast and timely financial and management reports, it needs to adapt to your changing workflows, operate with your other systems and grow with your business.
" I believe we have a serious competitive advantage using this product now. "
Jamie Kloos, Manager, OCS Process Systems, Ohio • 15-User MoneyWorks Datacentre 6 site
Get Better Information: Make Better Decisions
Information-rich dashboard charts let you know at a glance how your business is performing, while the easy-to-use on screen lists and enquiries give you quick access to all the information in your system.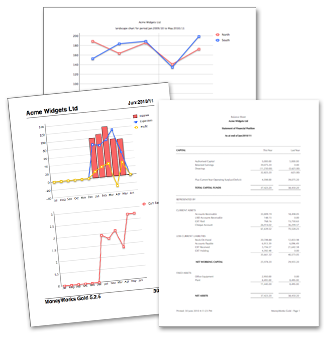 For in-depth analysis and forecasting, MoneyWorks has the most powerful reporting of any accounting software in its class, allowing you to get to really know your business.
Fast
Time is money. You don't want your accounting software to slow you down. The crisp, configurable entry screens in MoneyWorks will increase your productivity, while the networking in MoneyWorks Gold and Datacentre is robust and extremely fast, allowing multiple users to undertake the same functions quickly and simultaneously.
Totally cross-platform
Works the same on Mac and Windows. Share data files between platforms or even have Mac and Windows computers accessing the same server.