Edit
The First Time you Run MoneyWorks
The first time you start MoneyWorks you will be prompted for your name and serial number.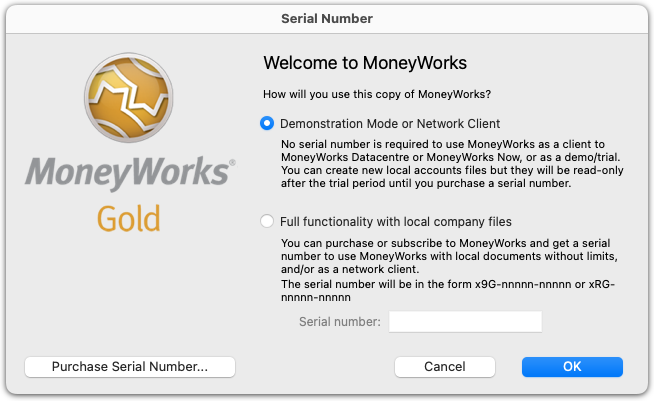 Demonstration Mode: If you are using a demo or trial version of MoneyWorks, select Demonstration Mode. Any new MoneyWorks file that you create will be usable for 45 days or 99 opens (whichever comes first), after which time you will need a full version to access it. The sample Acme file (used for the tutorial) can be used indefinitely, allowing you to thoroughly explore MoneyWorks.
Full version of MoneyWorks (Gold, Express or Cashbook): Select this if you are installing a full version of MoneyWorks. If you have not yet purchased a serial number, click the Purchase Serial Number button for an on-line purchase.
When a full version is selected, fields will be exposed for you to enter your name (or company name) and serial number.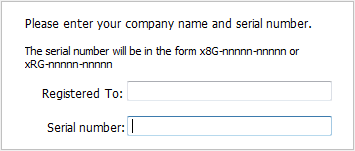 These must be completed before you can proceed. Note the serial number is in the form XXX-nnnnn-nnnnn, and must be entered exactly as provided!
Client for MoneyWorks Datacentre Server: Use this if you are a Datacentre client. Datacentre clients do not require a serial number, as this is maintained on the server.
Registering your copy of MoneyWorks
If you have purchased a full version of MoneyWorks it is important that you register it—you will in fact be prompted to do this. If you don't register your copy of MoneyWorks, and lose your serial number (and you will be surprised how often this happens), you will need to purchase another1.
When you register on-line, you can also provide your accountant's details. A special MoneyWorks licence will be made available to them so they can support you better should the need arise. Accountant's versions are only available for registered users.
Registration involves giving us your contact details so we can keep you informed of new developments in MoneyWorks, training courses and so forth. Registering on-line is quick and easy.
If it is not convenient to register at this point, you can do it later by choosing Register on line from the Help menu.
Note: If you change your address, email, phone number or other details, you can re-register MoneyWorks by choosing Register on line from the Help menu.
---
1 If you register, we can tell you what your serial number is in the event that it is lost. If you don't register, we won't know what it is. ↩