Edit
Department Groups
A Department Group is a collection of departments, and is used to associate the member departments with accounts, thus creating sub-ledgers for the accounts. Only department groups can be associated with accounts—not individual departments.
A department can belong to any number of different groups. A group must contain at least one department before it can be associated with an account.
Creating a Departmental Group
Choose Show>Department Groups
The list of department groups in your system will be displayed.
Choose Edit>New Group or press Ctrl-N/⌘-N
The Department Group entry window will be displayed.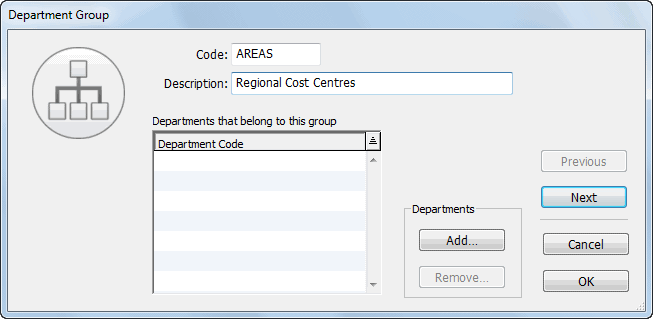 Enter the group code into the Code field
This code is used to identify the group and may be a maximum of 5 characters in length—characters can be alphanumeric—letters are automatically capitalised and spaces are converted to underscores—the "@" character is not permitted.
Enter a description for the group into the Description field
Assigning Departments to the Group
If you have previously defined departments in your system, add departments to the group at this point. If you have not already created Departments, groups can be assigned to departments as they are created.
To assign a department to a group:
Click the Add... button
The Add to Group window will be displayed.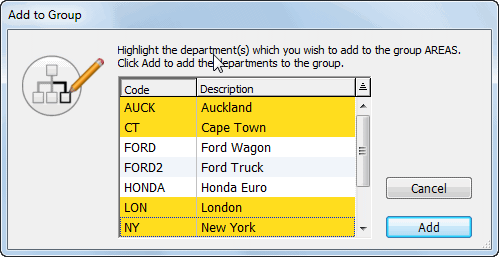 Highlight the departments that you want to add to the group and then click the Add button
Once you have clicked the Add button you will not be able to change the code of the group and the Cancel button is dimmed. If you find that you need to change the code of the group, accept the record as is and modify it later. See the following section for details.
Click the OK or Next button to save the changes