Edit
Department Classifications
Classifications are to departments what the pre-defined categories are to accounts—they are used to group related departments together for reporting purposes. A department can be associated with one classification, and this can be altered at any time.
The Classifications command in the Show menu displays a list of all the departmental classifications set up for your system. If none exist, the list will be empty.
Adding a New Classification
Choose Show>Classifications
The list of classifications in your system will be displayed.
Choose Edit>New Classification or press Ctrl-N/⌘-N
The Classification entry window will be displayed.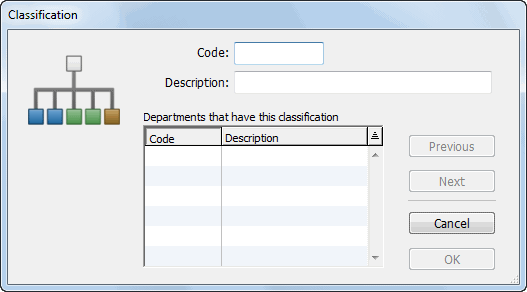 Type the classification code into the Code field
This may be a maximum of 5 characters in length—characters can be alphanumeric—letters are automatically capitalised and spaces are converted to underscores—the "@" character is not permitted.
Type a description for the classification into the Description field
Click the OK or Next button
Classifications can only be assigned to Departments in the Department entry window — see Adding a new Department.
Once assigned the codes and descriptions of the departments assigned to a particular classification appear in the scrolling list at the bottom-left of the Classification entry screen.
Modifying a Classification: You can change the details of a Classification at any time by double-clicking on its record in the Classification list window.
Deleting a Classification: A Classification can only be deleted if no Departments are assigned to it. You will be warned if you attempt to delete a classification that has departments assigned to it—you need to change the Classification for the departments concerned, and then delete the classification