Edit
The Log File
MoneyWorks maintains an internal Log File that provides an audit trail of major events in the life of your document—this includes any structural changes made to your chart of accounts, as well as routine accounting operations performed (bank reconciliations, debtor aging, and GST finalisation).
To view the log file:
Choose Show>Log File
The log file will be displayed.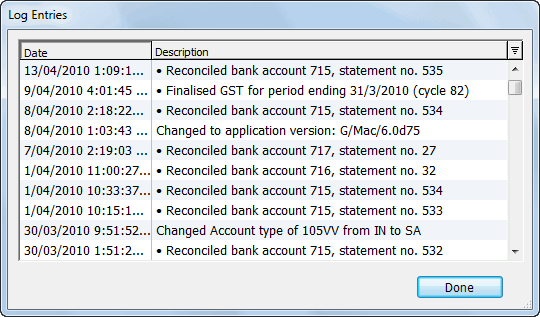 This is a normal MoneyWorks list, and can be sorted and printed1.
Adding a memo to the log file
You can add a short comment to the log file. Once added, the comment cannot be edited or removed (it is part of the audit trail).
To add a comment to the Log file:
Hold down the option key (Mac) or the Ctrl key (Windows)
An Add... button will appear in the bottom left of the Log window
Click the Add... button
The Permanent Memo window will be displayed.

Type in your permanent memo, and click OK
The memo can be up to 25 characters long. If you need to make a longer entry, spread it over several memo entries.
---
1 On Windows, press Ctrl-P to print. ↩