MoneyWorks Cloud Accounting and ERP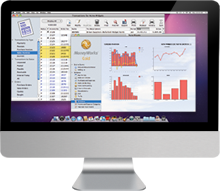 MoneyWorks Now, the MoneyWorks cloud accounting solution, overcomes the shortcomings of traditional cloud software, offering complete integration with your existing desktop services and the ability for you to backup and control your own data—don't let your service provider hold you hostage.
And whereas most cloud accounting is limited to basic bookkeeping (payables, receivables, general ledger and cashbook), MoneyWorks Now comes with advanced features at no additional charge. Features like powerful inventory, foreign currency, order-entry and report-writing are all built-in.
"Just to say I'm very impressed by the performance of MoneyWorks Now, which I have just been trialling for a client."
—David, Christchurch, New Zealand
Features
Hybrid Solution
MoneyWorks Now is not based on the limited (and slow) functionality of a browser, with all the trade-offs involved. Instead it is a "hybrid" solution, and accessed using the MoneyWorks Gold app, giving it live access to all your desktop services (like email, local databases and spreadsheets).
Native interface
MoneyWorks Now runs fully natively on your Mac or Windows computer, giving you all the richness, power and flexibility of a desktop app, coupled with the benefits of the cloud.
Integration
MoneyWorks Now can be tightly integrated not only with other cloud services, but also with your existing internal databases and systems. No need for cumbersome imports and file transfers.
Data
You can take a backup of your own data at any time, because its yours. And you can even open the backup with a desktop version of MoneyWorks, allowing you complete flexibility should you decide that the cloud is not for you.
Multiple Companies
You can run as many companies as you like on MoneyWorks Now, often with no additional charges. And using MoneyWorks powerful consolidation module, you can easily pull off consolidated reports or automatically generate consolidation journals.
Mobile
Special light-weight apps are available for mobile devices (iOS/android), allowing you to focus on just the task at hand, whether it be time keeping or just pulling a report.
Try MoneyWorks Now
Our cloud or yours?
Prefer your own, private cloud? Take a look at MoneyWorks Datacentre.
MoneyWorks Datacentre
No on-going monthly fees—saves you money in the long term.
Manage your own infrastructure with the advantages of a cloud solution.
Learn more >
MoneyWorks Now
No software capital outlay—just pay a monthly service fee.
No server hardware required—reduce your infrastructure.