Edit
Locations, Serial Numbers and Batches
MoneyWorks allows the tracking of inventoried items by location, and also items that have serial numbers or batch/lot numbers. This functionality is off by default, and needs to be turned on in the MoneyWorks Document Preferences.
To enable location or serial/batch tracking:
Open the MoneyWorks Preferences by choosing Edit>Document Preferences
On the Data Entry panel turn on Stock Location Tracking for location tracking, and/or Serial Number Tracking for serial/batch tracking.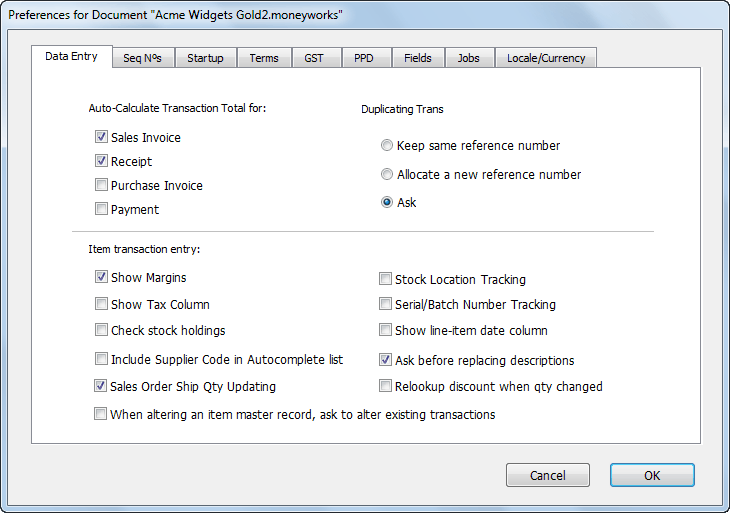 You should only turn these options on if you need the functionality, as they impose extra disciplines in data entry and stock taking. When Stock Location Tracking is enabled, an additional Location column is displayed on the transaction entry screen. Similarly a serial/batch column is displayed if batch tracking is enabled.

Locations
Locations are normally physical locations, such as warehouses or branches. But locations can also be used for consignment stock.
When location tracking is enabled, all stock is considered to kept in a specific location. So when an inventoried item is purchased or sold, the stock location needs to be specified. Stock items can be transferred between locations using a Stock Transfer Journal.
When you turn on Location tracking, all your existing stock (if any) is assigned to the default location. The default location is a location with no code.