Edit
Printing Forms
Forms (invoices and statements, etc.) have different printing options to other printouts. This is because they are graphical (as opposed to textual) in nature—it is in fact this graphical nature which prevents customisable forms (i.e. any form except the "Plain" ones) from being emailed except as a pdf attachment.
Printing a Form for the first time
Before you first print a particular form, you need to set the page size and alignment on that page for your specific printer. Once you have done the alignment, it will be remembered for that form (at least until you again change printers).To check the alignment:
Start to print the form in the normal manner
The Print Forms settings window will be displayed.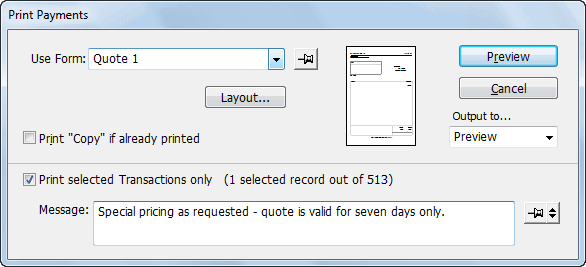 Select the form to use from the Use Form pop-up menu
A thumbnail preview of the form (if available) will be displayed to the right of the Use Form pop-up menu.
Click the Layout button
You only need to do this the first time a form is being printed, to ensure it is correctly positioned for your printer.
The Form Layout window will open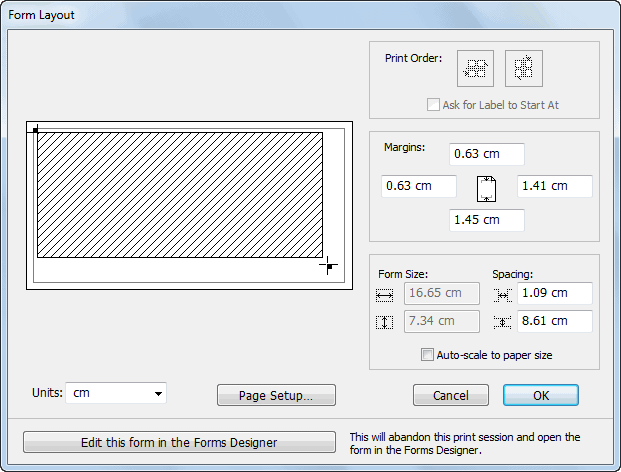 Click the Page Setup button to specify the paper size
Your printer's standard printer Page Setup dialog will open. Use this to choose the paper size (e.g. A4) and orientation for the form.
Position the form within the available margins for the paper you have selected by sliding the shaded rectangle.
If there is no shaded rectangle, it is because the paper size you have selected is too small for the form you are using.
Click OK to save your settings