Edit
Communicating with Your Accountant
Unless you are one of those people who do their entire accounting and statutory returns themselves, you will from time to time need to send information to your accountant. The easiest thing to do is to send them a backup copy of your MoneyWorks document—unfortunately this presupposes that they have MoneyWorks, and not all accountants have the necessary degree of enlightenment for this.
If your accountant just wants a report, you can simply print or email one directly. Typically they will be interested in the Trial Balance, Profit & Loss, and Debtors/Creditors reconciliation reports. They might also want a detailed breakdown of one or more accounts—use the Account Enquiry for this, printing out the movements from this screen, or, even better, highlight the required accounts in the Accounts list and click on the Ledger Report sidebar report.
Accountant's Export
You can also export your complete accounts in a format that is suitable for importing into the major accounting practice systems. To do this:
Choose File>Accountant's Export
The Accountant's Export settings window will open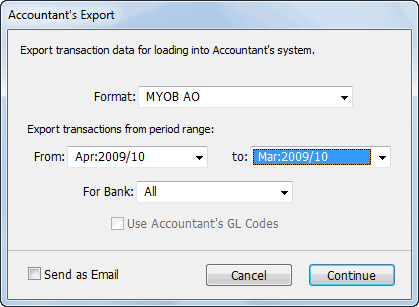 Choose the file format to use
If your accountant uses MoneyWorks, choose the MoneyWorks file format to create a backup copy of your accounts.
Choose the period range
All posted transactions for the period range selected will be exported. This is not available for the MoneyWorks export option.
For Bank: If you just want to give your accountant details for a specific bank account, choose the account from the For Bank menu. Only posted transactions that used the nominated bank account will be exported. Note that some accountant's systems, unused to dealing with more sophisticated programs such as MoneyWorks, expect a separate file for each bank account. If this is the case, it is not possible to transfer a lot of the information that is in MoneyWorks (such as your accounts receivable/payable).
Note: If you choose the All Banks option, MoneyWorks will export any invoices as if your accounts payable and receivable accounts were bank accounts.
Choose the Bank Account if just providing details for a single bank account
Use Accountant's Codes: If you have stored your accountant's codes in your chart of accounts, you can set the Use Accountant's GL Codes to export your accounts with their codes instead of yours. This option is only available if the accountant's code is set for all your accounts.
Send as Email: You can email the files directly to your accountant—MoneyWorks will make an email with the accountant's files attached, and put in your Out box ready for sending the next time you go on line (you will still need to address the email).
Set the Send as Email option if you want to email the files
Click Continue
You will be prompted for the file name and location. Make sure that you choose some sensible location for this on your hard drive so you can find the file again easily.
If you elected to email the file, your email program should appear with the newly created file as an attachment.