Edit
Accessing and Viewing Transactions
To view the Transactions list:
Choose Show>Transactions or press Ctrl-T/⌘-T
Some of the commands in the Navigator will also take you to this list (normally in preparation for some further operation).
Click on the view in the sidebar to choose which transactions to display
The left-arrow key moves to the next view; right-arrow to the previous view.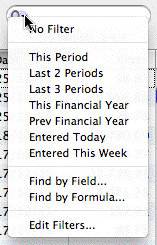 Tip: Since you can have a lot of transactions (more than seven years worth), you may wish to use the list filter to limit the display. You can also create your own filters —see Creating Filters.
Tip: Press the esc key to return you to the view in which you last highlighted a transaction.