Edit
Stock Enquiries
The Stock Enquiries window allows you to determine the status of any inventoried item. You can view historic sales, purchases and transfers of the item, ordered and backordered items, and (for stocked items) the current stock holding. You can also "build" manufactured items.
To display the Stock Enquiry window:
Choose Enquiries>Stock Enquiry or press Ctrl-9/⌘-9
The stock enquiry window will be displayed: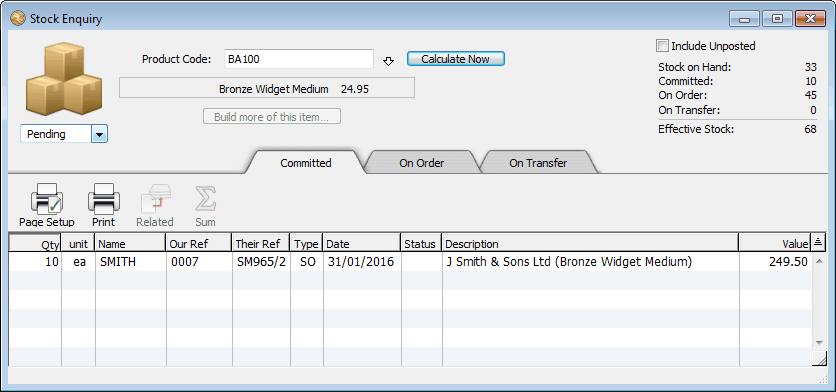 Type in the product code and press keypad enter, or click the Calculate Now button
The stock holdings of the item will be calculated and displayed, with the transactions affecting the stock holding displayed in the bottom portion of the window. The list can be sorted and summed, and you can double-click an item in it to view or modify it
If the product code is incorrect, the choices window will be displayed. Double click on an item to select it.
To view the status of another item, type in its code and press keypad-enter
The information about the new item will be displayed.
Effective Stock Calculation
The theoretical effective stock is calculated in the top right hand section of the window as follows:
Effective Stock = Stock on hand - Committed + On Order - On Transfer
Stock on hand The stock figure taken from the product record. This stock figure is automatically maintained by MoneyWorks whenever a transaction affecting the stock is posted.
Committed The total quantity of backordered/unshipped Sales Orders that involve the stock item. These are listed under the Committed tab.
On Order The total quantity of all backordered/unshipped Purchase Orders involving the stock item. These are listed under the On Order tab.
On Transfer The total quantity of all unposted stock journals involving the item. These transactions are listed under the On Transfer tab.
Note: If the Include Unposted option is on, unposted stock purchases and sales will be included in the Effective Stock calculation.
To Build more of a stocked item:
Click the Build more of this item button to open the Build Product window—Building Products.

Historic Stock Transactions:
To view a list of all unpurged, complete (posted) historic transactions concerning this product, choose Historic from the Pending pop-up menu
The historic transactions will be listed in under the tabs Outgoing (for posted receipts and debtor invoices), Incoming (for posted payments and creditor invoices) and Transfers (for posted stock journals).