Edit
Chart of Accounts
MoneyWorks comes pre-supplied with several charts of accounts that are suitable for different types of organisations. You can use one of these, or set up your own coding system. If you select one of the standard charts you will be able to fine tune it to your own requirements by adding and deleting account codes.
To choose your chart of accounts:
Click the Accounts button to display the available samples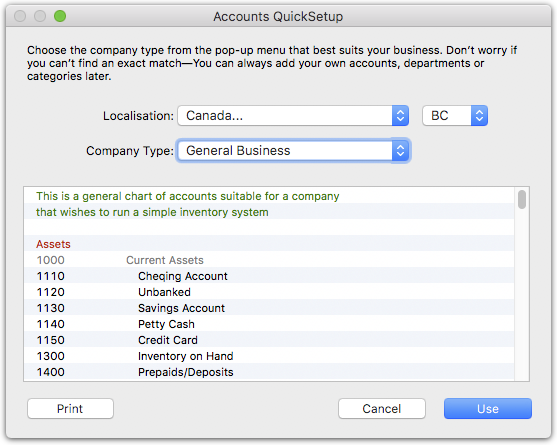 The Localisation pop-up allows you to create a file which uses the location settings (including tax names) for a different country than your own. Some locations have different tax rates for different states/provinces. A separate "sub-locale" pop-up menu is provided for such locations for which MoneyWorks has separate tax tables.
If necessary, set the Localisation pop-up for the file's target country
The accounts for various types of organisation may be viewed by using the Company Type pop-up menu. The Minimal set, as shown in the diagram, should be used if you want to set up your own accounts from scratch—it consists of only the accounts that MoneyWorks requires.
Set the pop-up menu to your choice of accounts, and click the Use button
The accounts QuickSetup window will close.
You can click the Accounts button again to change your choice if required. Note however that you cannot change the chart of accounts in this manner once you click the Accept button in the Setup New Document window (although you can make changes to the accounts you chose).