Edit
Specifying Locations
Before you can move stock to a different location, the location must be defined. There is no effective limit on the number of stock locations that you can have.
To define a new stock location:
Choose Show>Validation Lists
The Validation List window will open.
There should be a list called Stock Locations. This was created automatically (if it didn't already exist) when you turned on the Stock Location Tracking preference. If for some reason it is not there you will need to add it manually as described in Creating a Validation List—note that it must be called "Stock Locations".
Note: There will be a default location in the list—this is one with no code, and is where all existing inventoried items will be located.
Click the New toolbar icon
The list item entry window will open.
Enter a code for the location and a description
The code is used when entering transactions to identify the source/destination of the item. The code can be up to 15 characters long, but you may want to keep it shorter.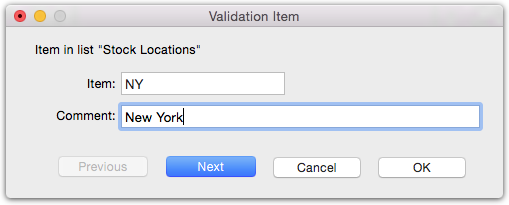 Click OK to save the code (or Next to save the code and enter another one).