Edit
The Calendar
The calendar panel provides a simple set of calendars for MoneyWorks users.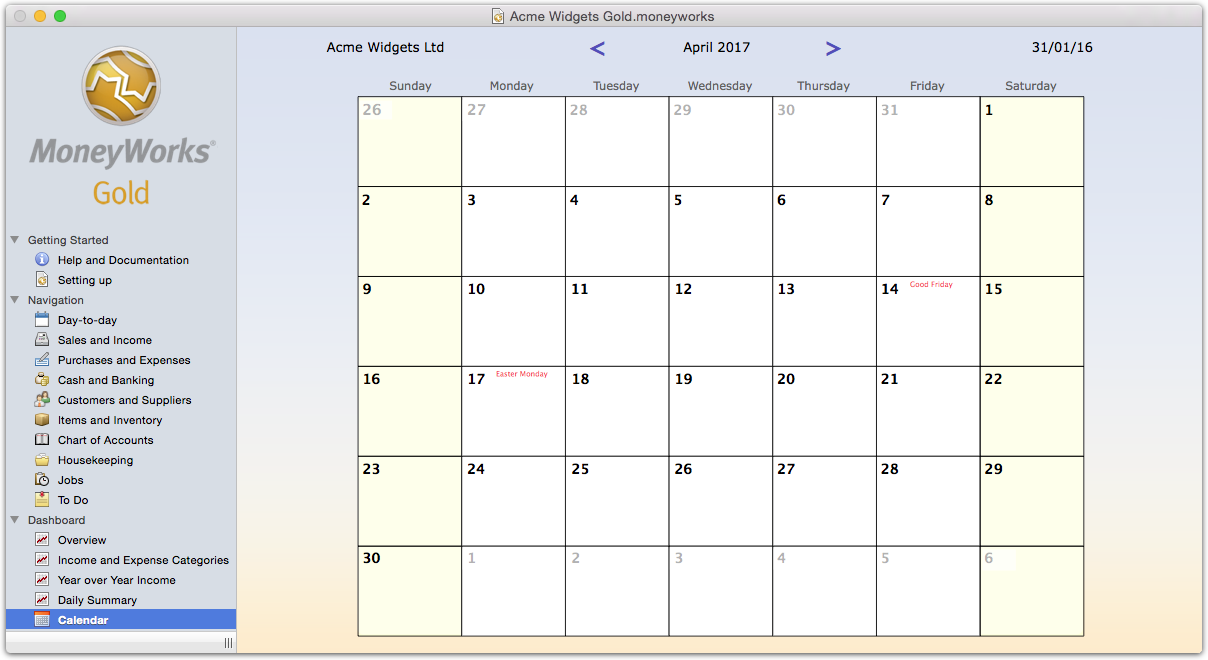 The calendar is stand-alone. It does not integrate with iCal, outlook or any other electronic almanac. This makes it very easy to use.
The calendar does not reflect any messages in the Reminder system, nor will it pop up alerts.
By default there is a company-wide calendar (available to all users), and a separate one for each user (only available to that user). Additional calendars can be created for company resources, such as meeting rooms, equipments etc.
To record or modify an event in the calendar
Click on the cell corresponding to the event date (below the date)
The calendar entry window will open. Any existing events will be displayed.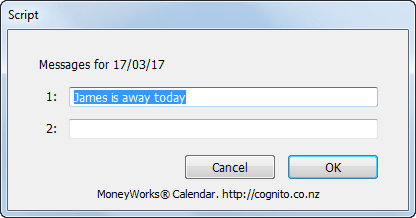 If you are adding a new event, enter it into the bottom field (a maximum of six entries can be made per day).
If you are modifying an event, make any changes to it
If you want to delete an event, delete all the text in the field.
Click OK

The changed event will be displayed on the calendar in the selected day.
To label a day
Provided you have the privileges to do an Account Enquiry, you can label special days such as holidays. The appear next to the date in red:

Click on the date itself
The Set Day Name window will be displayed.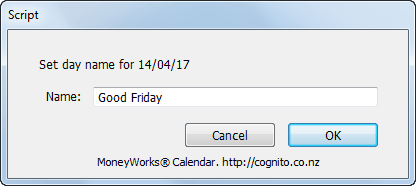 Key in the name of the day.
Note: This can only be done on the main Company calendar, and the named days will appear on all other calendars.
To switch between calendars
To change from the company to your personal calendar, click on the company name. Your name and initials will be displayed instead of the company name. To change back again, click on these.
If there are more than two calendars (see below), clicking on the company name will display a choices list of the available calendars. Select the calendar you want to use from this.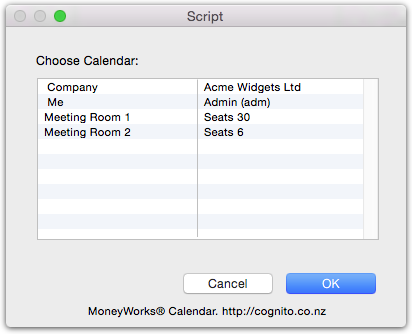 To create additional calendars
Additional calendars can be created using a special validation list called "Calendars". For example, the validation list settings below create two new calendars for meeting rooms.