Edit
Importing your Address Book
On the Mac only, you can import the address book direct into MoneyWorks. New entries in the address book will be added, and changed entries will be updated.
Choose File>Import>Address Book
The Import Address Book settings will be displayed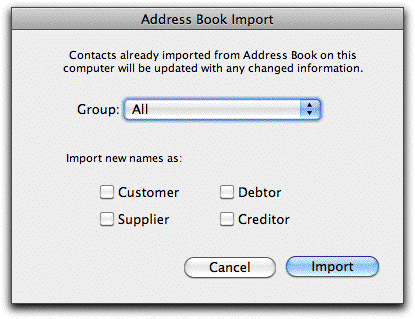 Unless you want to import all entries, set the Group pop-up to the Address Book group you wish to import
Indicate the type of Name record to create in MoneyWorks
Note that a Creditor is a Supplier who gives you credit, and a Debtor is a Customer to whom you extend credit. Creditors and Debtors are not available in Cashbook.
Click Import
The information in your address book will be transferred into MoneyWorks, with any previously imported entries being updated. Codes for the new entries will be automatically created based on the first few letters of the name.