Edit
Singapore On-Line Filing
As of version 9.0.8, MoneyWorks users in Singapore can file their GST on-line (forms F5, F7 and F8) direct to IRAS.
To submit the last finalised GST return:
Choose Command>IRAS Connect ...
You will be prompted for the form to file.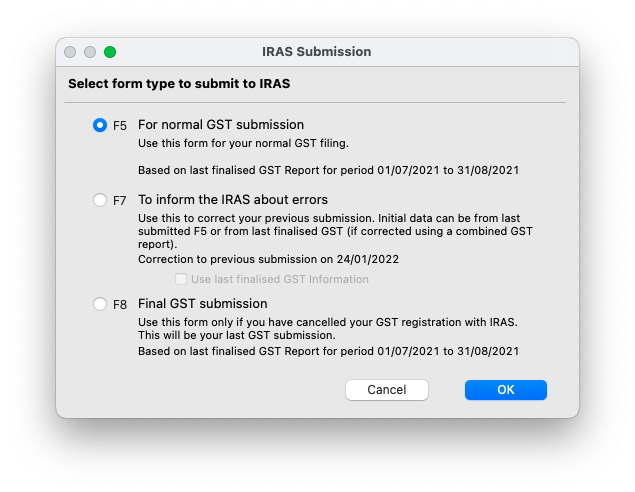 Choose F5 for the normal filing, F7 if this is an amendment, F8 if you are no longer subject to GST and this is your final return.
The Iras Connect window will open
This contains a summary of your GST based on your last finalised GST Report: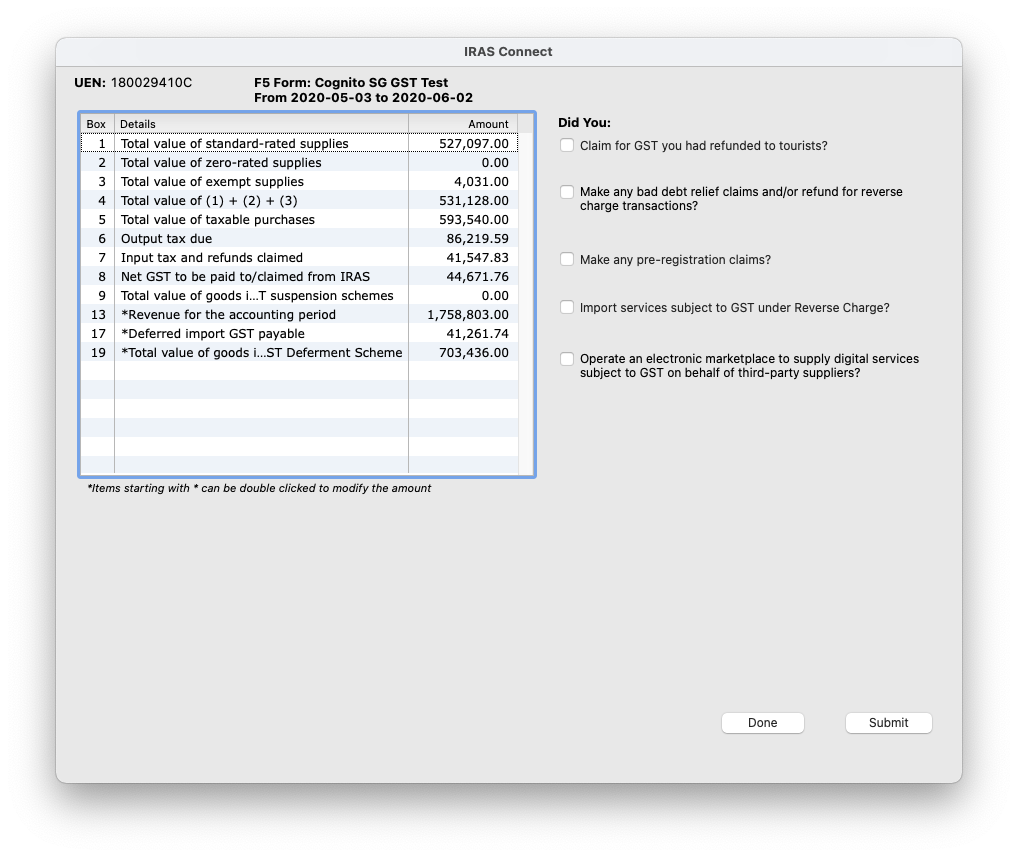 You should check the numbers carefully.
Note: The values of boxes marked with an * can be amended by double-clicking.
Note: For F7 submissions the results from the last F5 submission are displayed, or, if the Use last finalised GST information checkbox is on, the results of the last finalised report. Use the latter option if you have corrected the transactions in MoneyWorks and prepared a combined GST report that incorporated the changes. In either case, you can alter any of the numbers in the report prior to submission.
If applicable, check any of the options down the right hand side and enter the amount into the field that will be displayed

Note that zero is not a valid value for these fields.
Additional information may be requested if certain conditions are detected.
For example, if Box 1 is greater than zero and Box 6 is less than zero, the following will be displayed: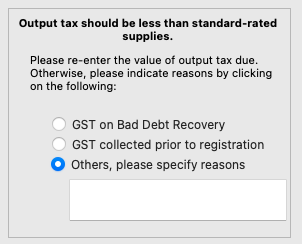 In these situations if you select Other you must provide a reason.
When the form is correctly filled out, click the Submit button
If no inconsistencies are detected, the Declaration window will be displayed: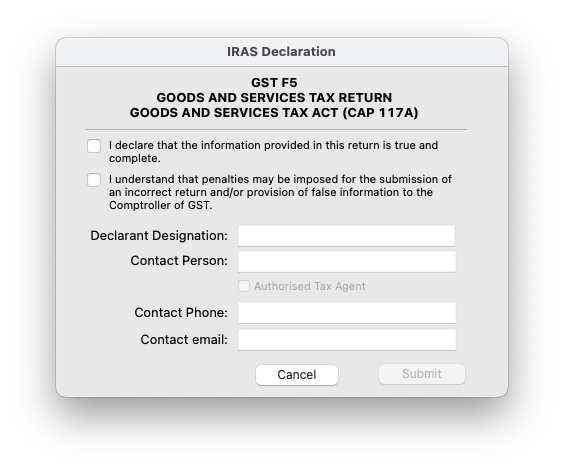 Complete the declaration and click Submit
The IRAS login window will open: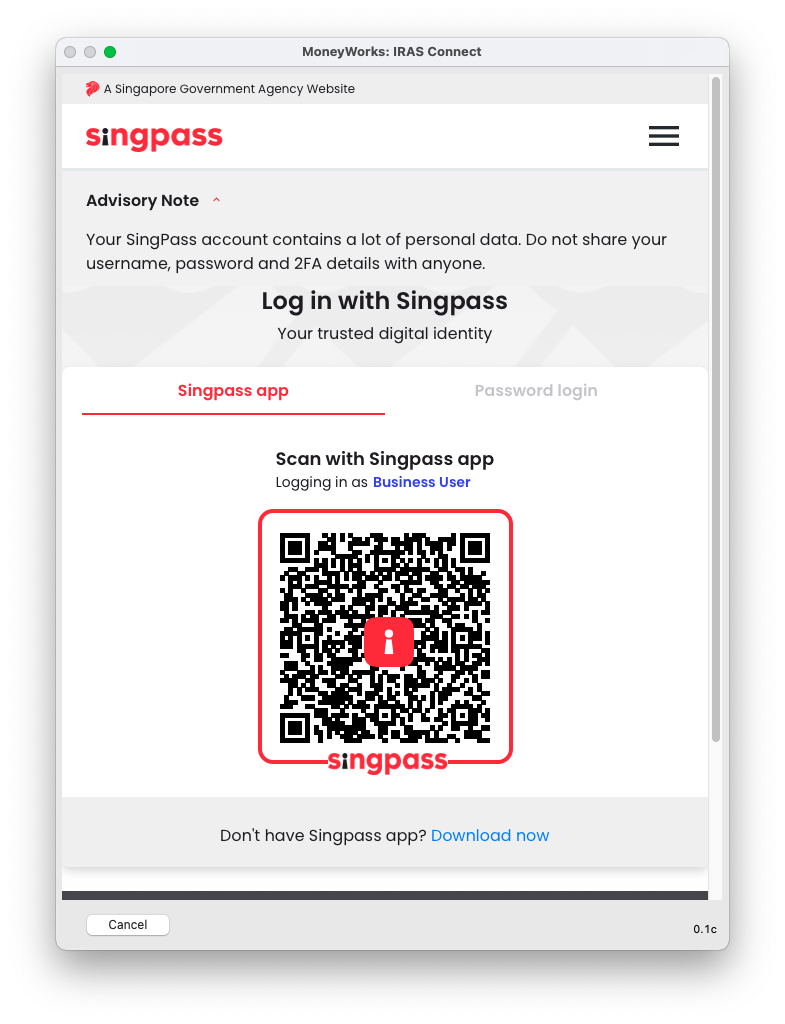 Use your Singpass or User/Password to connect to IRAS and follow the instructions given.
Note: Depending on load, the login and submission process can take a long time. Be patient.
In the final submission screen, clicking the Allow button will submit the data:
When the data has been accepted by IRAS an alert will be displayed: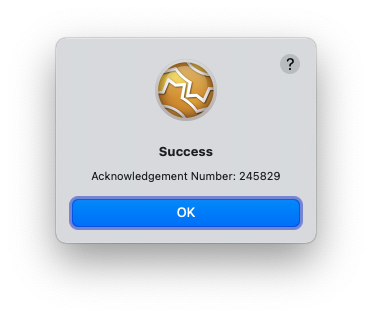 At this point the process is complete and you can close the IRAS Connect window.
If an error is detected by IRAS during the submission process this will be displayed, for example: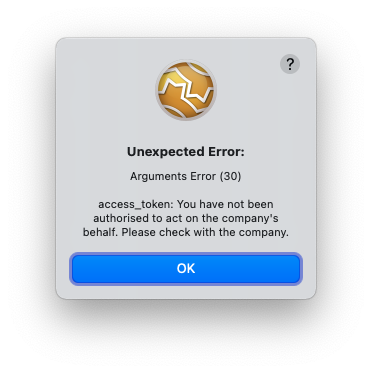 You will need to correct this and resubmit.