Edit
Creating Multiple Sales Invoices
The Duplicate Multiple command is used to generate multiple copies of a sales invoice. This is useful where you have a standard invoice that needs to be sent to a large number of debtors. A school sending invoices to all its pupils for school fees, or a business invoicing subscribers to a service are examples of this.
In the Sales Invoice tab view of the Transactions window, highlight the invoice to be used as a template
You can only use the Duplicate Multiple command in this tab view.
This invoice transaction should contain all the details that need to be duplicated for a number of other debtors.
Choose Edit>Duplicate Multiple
The Duplicate Multiple window is displayed. All the debtors in your file (excluding templates) will appear in the list.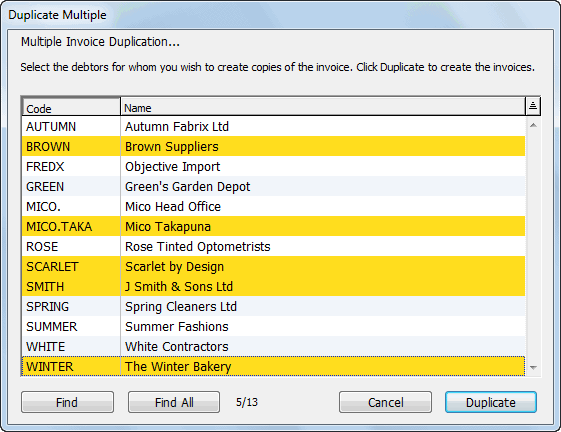 Highlight the debtors for whom you require a duplicate copy of the invoice
Use the Shift or Control/Command keys to select a number of debtors. The number of invoices that will be created is displayed at the bottom left of the list (the other number is a count of the Names record showing in the list).
If you have a large number of debtors on file, click the Find button to search the debtors that match some defined criterion.
Click the Duplicate button
An unposted copy of the highlighted invoice will be generated for each of the highlighted debtors. The date and period for the new invoices will be the same as that of the original.
Click the Cancel button to cancel this process.
The new invoices are unposted and can be modified or deleted as necessary.