Edit
Ageing Debtor Balances
You should age the outstanding debtor balances after printing statements. If you do not print statements, then ageing is optional, but you may like to do it on a regular monthly basis anyway. You can also "age on the fly".
Ageing debtors performs a dual purpose:
"Current" invoices and receipts become non-current. In general this means that they will not appear on subsequent statements—the exception is unpaid invoices, which will continue to appear on open-item type statements.
The "manual aging" balances for each debtor (as shown in the Balances tab of the Names record and in the payments history) are moved left one place, eventually accumulating in the 3 or more cycles section.


Note: Ageing is necessary for proper production of most forms of statements. If you do not require statements for customers, you can have MoneyWorks produce aged-debtor reports for your own use automatically.
To age debtor balances:
Choose Command>Age Debtor Balances...
An alert box will appear asking for confirmation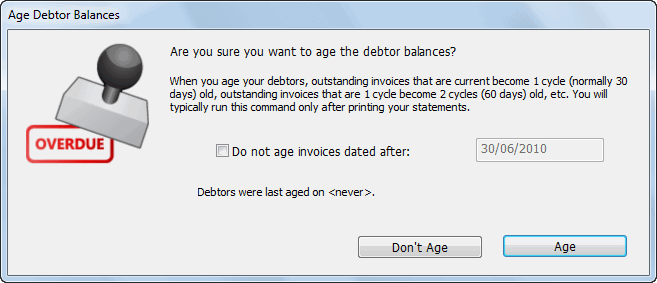 If you have entered new debtor invoices dated after the cut-off date for ageing, set the Do not age invoices dated after checkbox and enter the cutoff date
Invoices dated after this will not be aged.
Click Age to age the debtor balances
If you don't have many debtors, the ageing may be pretty much instantaneous, so don't be tempted to think that nothing has happened.
Aged Debtor/Aged Receivables Report
For information on printing an aged receivables/debtor report — see Aged Receivables. This can be printed for prior periods (although it might take considerably longer), and used as a reconciliation report. Using the Report Writer in MoneyWorks Gold, you can modify this report or create your own aged debtors (or creditors) report if you wish.