Edit
Asset List
The assets themselves are maintained in the Asset List, and can be added or modified in the usual manner.
Choose Show>Assets
The asset list will be displayed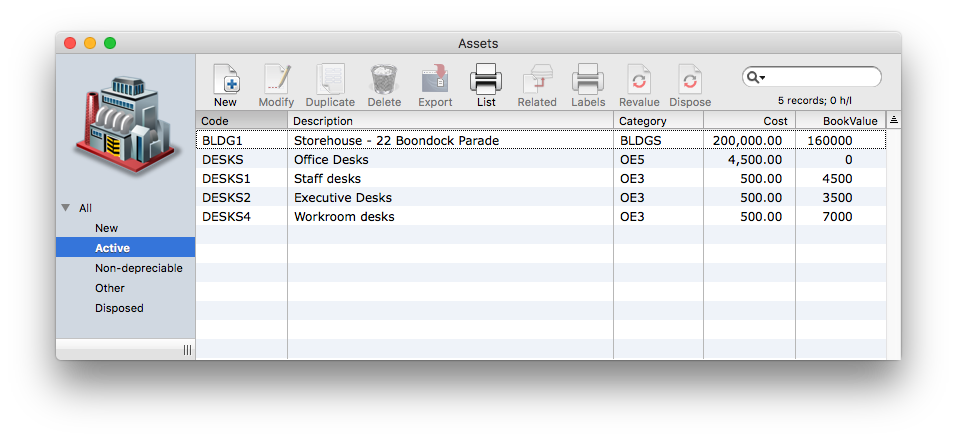 The list has separate tabs for easy viewing assets by type/status:
New: assets that have been entered but not yet depreciated. These assets can be modified or deleted;
Active: assets that have been depreciated. These assets cannot be modified or deleted except by special operation;
Non-depreciable: A class of assets that are not depreciated. They must be acquired and disposed of, so are reflected in the general ledger;
Other: other assets or similar that you might want to keep a record of. These can be modified and deleted, but not depreciated.
Disposed: assets that have been disposed of. These may be deleted.
To create a new asset:
Click the New toolbar button or press Ctrl-N/⌘-N
A new asset window will open.
Enter the details of the asset and click OK
Note that, once the asset has been depreciated, you cannot make changes to certain fields such as original cost, last depreciated date, acquisition date, accumulated depreciation, category of the asset, expected life etc. Such fields will be greyed out. It is important to ensure that the information you entered is correct before the asset is depreciated.
To modify an existing asset:
Locate the asset in the list and double-click it
The details of the asset will be displayed.
Make the required changes and click OK