Edit
Job Sheet Based Analysis Settings
The Analysis Settings options for Job Sheet based analysis reports operate in a similar manner to those for transactions.
Simple Settings
The simple settings allows you to specify which job sheet records you want to include in the report.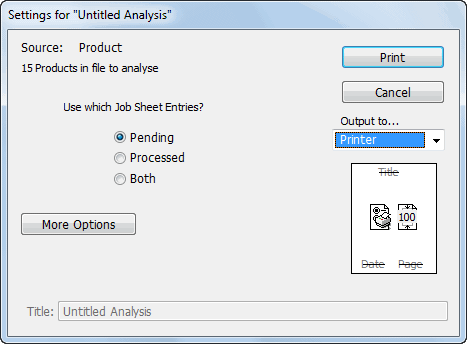 Only pending (i.e. unbilled) job sheet items will be used.
Only processed (i.e. invoiced) job sheet items will be used.
Both pending and processed job sheet items will be used.
To change to the more complex form, click More Options.
More Settings
The second form of the Analysis Settings provides more options and allows you to specify time ranges. These operate in the same manner as in the settings box for the transaction analyses. Clicking Fewer Options changes to the simple settings window.