In this newsletter …
Announcing MoneyWorks Point of Sale (POS)
The MoneyWorks Point of Sale (POS) system is a simple but functional point of sale system for retail, hospitality and the like. Because it is a component of MoneyWorks, there is no need to run separate systems, with all the data-transfers and maintenance that this requires. Whenever a sale is entered in the POS, inventory levels and appropriate ledgers are automatically updated.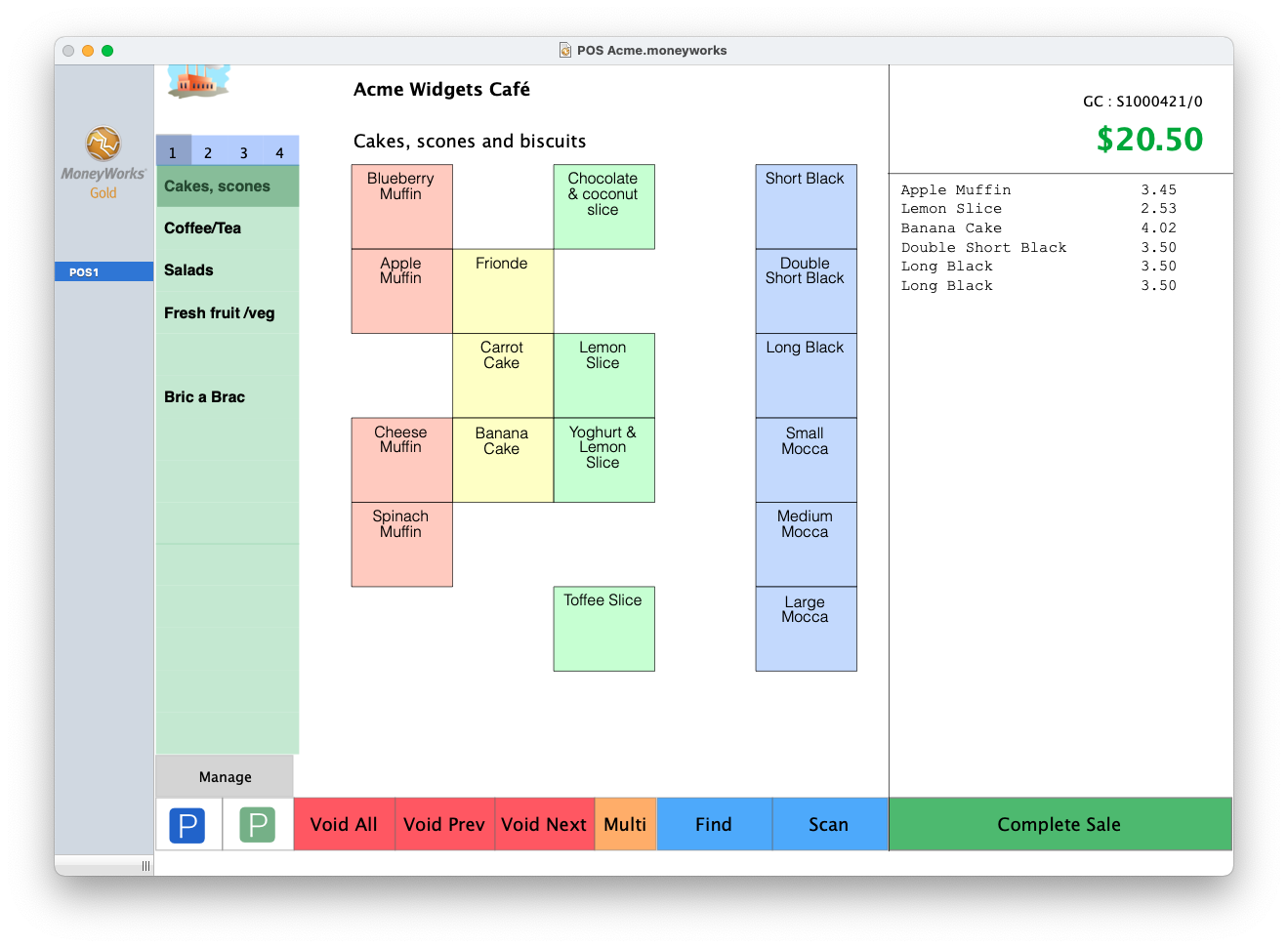 Key features:
Visual display for PLU codes
Barcode scanning
Parked transactions (e.g. for bar tabs)
Weights, length and quantities
Handles tips and split payments
Capture customer details for loyalty schemes
Optionally exchange data with a master file running on a separate MoneyWorks Now or Datacentre system
MoneyWorks POS runs on MoneyWorks Gold, either as a stand-alone system or as a client for MoneyWorks Datacentre or MoneyWorks Now. The latter options thus allow for multiple stores and/or multiple-tills.
MoneyWorks POS is a MoneyWorks Service, and can be enabled under File>Manage Services.
For more information, download the MoneyWorks POS documentation.
MoneyWorks 9.1.3
The current MoneyWorks version is the newly released 9.1.3, and, as usual, we recommend that you update as soon as convenient.
End of macOS Sierra Support
To keep MoneyWorks running and up-to-date on the latest Mac systems, we need to use the latest Apple development tools. Recently Apple dropped Sierra from its supported platforms, and hence we can no longer build MoneyWorks versions that will work on Sierra. MoneyWorks 9.1.3 and later will not run on Sierra.
Support for new IRD protocols (New Zealand)
New Zealand users must update to MoneyWorks 9.1.3 to continue using IRD Connect (see below).
For more information see the MoneyWorks 9.1.3 change notes.
Changes to GST Filing (New Zealand)
The IRD have been revamping their backend technology, and this has imposed changes on how MoneyWorks and other systems communicate with them. MoneyWorks 9.1.3 uses the new protocols, but older versions do not. After the old protocols are deimplemented later this year, older MoneyWorks versions will no longer be able to file GST directly using IRD Connect.
End of 0900 NZ Support Service
Spark have advised us that the entire 0900 service in New Zealand is being shut down and will not be available after 30th June. We have used the 0900 service as the primary means of local phone support for over 25 years, and it has proved an efficient way to provide quality support at a low cost. We are working on a replacement support system, and will advise details in our next newsletter.
Upcoming Training Courses
Pandemics and floods permitting, we have training courses scheduled as follows:
Auckland (Tuesday 30th May)
Auckland (Wednesday 14th June)
London (Tuesday 18th July)
London (Wednesday 19th July)
For more details, or to book your place, see cognito.co.nz/support/training/
We can also do targetted on-line training, normally using zoom. If you are interested in organising a one-on-one or group session please email info@cognito.co.nz.
Recording Time and Viewing Reports from your Phone
A reminder that there are a couple of handy web apps available for Datacentre and MoneyWorks Now users. These run on most modern browsers, allowing access to some MoneyWorks functions from your smartphone.
The Reports app allows you to run any (authorised) report on your phone, so is great for keeping an eye on things while travelling.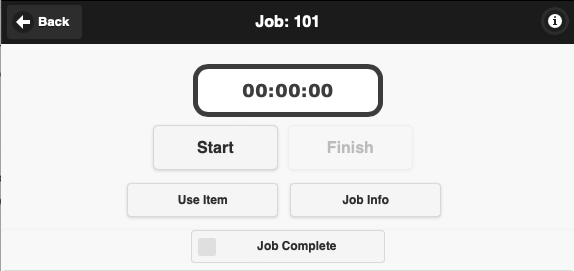 The Timer app allows users to log time and materials used on jobs (so great for tradies, accountants, lawyers and others charging out time).
In essence the Timer app displays a list of active jobs from MoneyWorks and allows a timer to be started. This will run until it is stopped, or until another job's timer is activated. The time can then be submitted back to MoneyWorks, where it will appear in the Job Sheet list. Similarly items can be requisitioned for a job, and these are recorded in the Job Sheet list. Billing for the job is done in the normal manner through the Bill Job facility in MoneyWorks.
For more information, see MoneyWorks Timer App.
Tips du Jour
If you are trying to work out who entered a transaction, or when it was entered, or if a payment has been reconciled or an invoice paid, click the blue info button in the transaction toolbar. This opens a window displaying audit information about that transaction.
Did you know that previous newsletters back to March 2018 are archived on the MoneyWorks Blog (in fact did you even know there was a MoneyWorks blog)? If you are hunting for an old tip or story this is the place look.
With the end of the financial year almost here for many companies in New Zealand and the United Kingdom, it is a good time to review your end of year processes.