In this newsletter …
MoneyWorks 9.1.4r1
The current MoneyWorks version is the newly released 9.1.4r1, and we recommend that you update as soon as convenient.
Included in this release are enhancements to Items, where you can specify override tax codes for each item. If an item has an override, it will be used when purchasing or selling the item. We have also tightened up on who can enable and disable MoneyWorks Services (you now must be an Administrator), and have added a Get Support item in the Help menu, to outline your support options (see below for more information on this).
The update also reintroduces separate print settings for each list. In some situations a list might be scaled incorrectly the first time it is output directly to a printer. In this case, start to reprint the list, but do a Page Setup in the Print List dialog settings before clicking the Print button.
For a complete list of changes, see the MoneyWorks 9.1.4 change notes.
New Support Services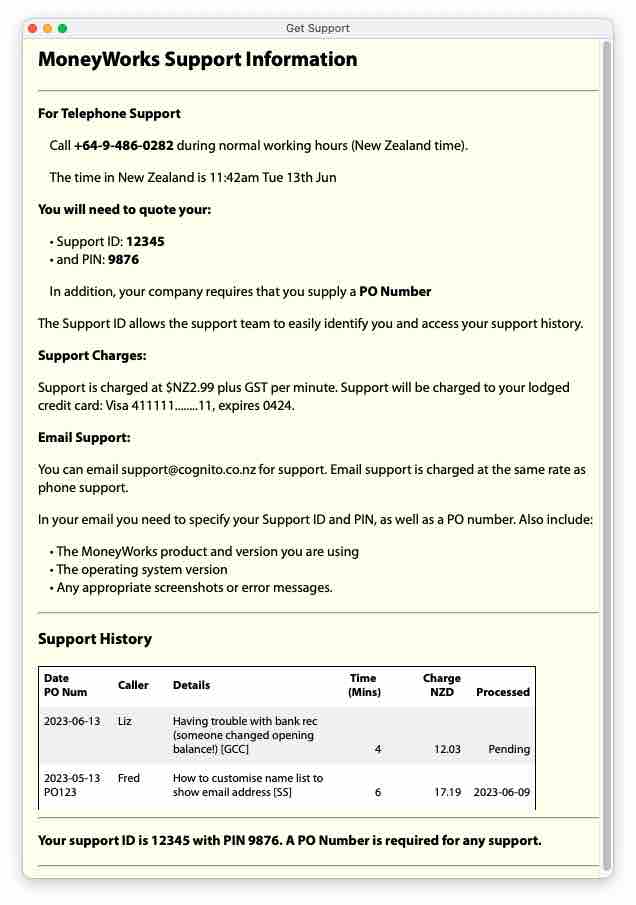 With the 9.1.4 release, we have taken the opportunity to implement a new support service. Although prompted by the pending demise of the New Zealand 0900 service (which, as a reminder, ends 30th June), we anticipate this new service will greatly streamline support and help keep costs down for MoneyWorks 9 users everywhere.
MoneyWorks 9 users can now register for support under Help>Manage Services. If you do this and lodge a credit/debit card, you will be issued with a support ID and PIN number. Quoting these numbers on a support call or email will allow us to identify you, recall your recent support history, and automatically charge for support used.
The Support ID and PIN, along with contact details for support, are available under Help>Get Support in MoneyWorks 9.1.4 (or Help>Manage Services in earlier versions of MoneyWorks 9). This also shows any prior support lodged under this support ID.
Organisations that need a lot of support, or don't have access to credit cards, can apply for a support account (but still need to register under Manage Services).
When you register for support, you can also specify whether you need to supply a Purchase Order number. You can even require that a specific order number be supplied, enabling you to control who can access support.
UK Training Course
We have a MoneyWorks training course scheduled to be held in London on Tuesday 18th & Wednesday 19th July. For more details, or to book your place, see cognito.co.nz/support/training/.
MoneyWorks Price Increases
Somewhat sadly, and for the first time since MoneyWorks was released in 1992, we are having to raise prices for MoneyWorks products and subscriptions. From August 1st, MoneyWorks prices will increase by approximately 10%, depending on product and jurisdiction. This will affect new perpetual licences (and software maintenance on existing ones), MoneyWorks Now, and MoneyWorks subscriptions.
The charges for MoneyWorks Services (e.g. Shopify link, mwPOS) and support will not be increased at this time.
macOS Sonoma
Apple have announced that a new version of the Mac operating system (Sonoma) will be shipping later this year. As usual we will be ensuring MoneyWorks operates correctly with the new OS, but in the meantime Mac aficionados should resist the temptation to adopt Sonoma as their production machine. However if you are playing with a pre-release version of Sonoma and find any issues with MoneyWorks 9, please let us know.
Tips du Jour
1. Advanced Replace
Speaking of price increases, you can easily increase or decrease prices for a range of products by using the Advanced Replace facility in MoneyWorks. For example, to increase the price of products by 10% you would: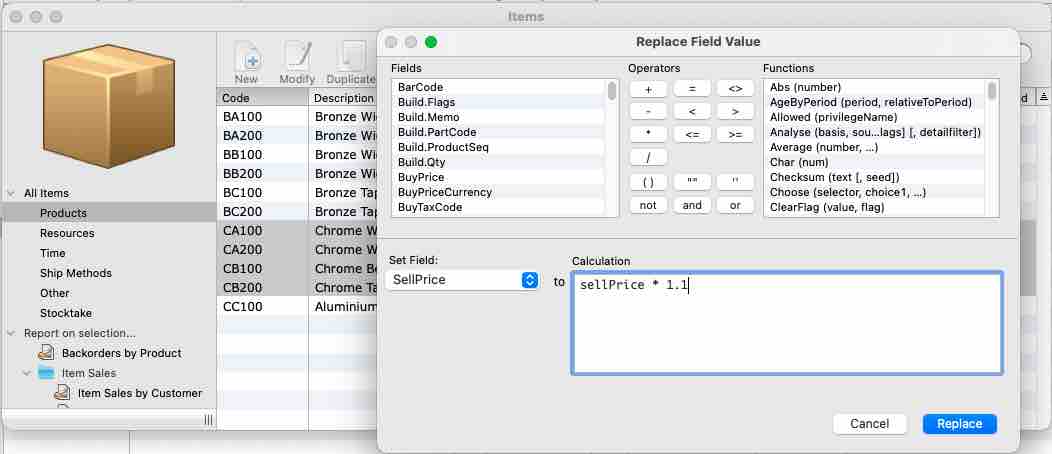 Highlight the affected products in the product list
Choose Select>Advanced Replace
In the Advanced Replace window that opens, set the Set Field popup to Sell Price
In the formula box type sellPrice * 1.1
Click Replace (you will be asked for confirmation)
The SellPrice values will be increased by 10% for the highlighted products (in the screenshot, we are just updating the Chrome products).
Note that there is no Undo for a replace like this, so proceed carefully! In practice do a File>Save, do the Replace and check the results. If something has gone wrong, rollback the file (choose File>Rollback)
2. Managing Image Size
The ability to store a digital image against a transaction is really useful for helping to make your office more paperless. This might be a PDF that has been emailed to you, or quite often it might be a paper document that you run through your scanner to get a JPEG (preferred) or a PDF. For scanned documents JPEG is preferred because it is directly viewable on all platforms, and also easier and much faster to recompress if that should be required.
It is worth being aware of the storage requirements of these images though. With inappropriate scanner settings, they may be far larger than they need to be. If you have access to DPI settings on your scanner, we highly recommend that you scan transaction documents at no more than 150DPI, which will provide sufficient quality and readability for record-keeping. Scanning lunch receipts at super high quality 2400DPI that take up multiple megabytes will result in unnecessarily hefty storage requirements on your server.
If you are the server administrator wrestling with very large images and hence very large backup files, you can encourage users to use appropriate scanner settings, or, failing that, you can look at Image Recompression.